ARMSTRONG & BARTNIKIEWICZ
Space Communications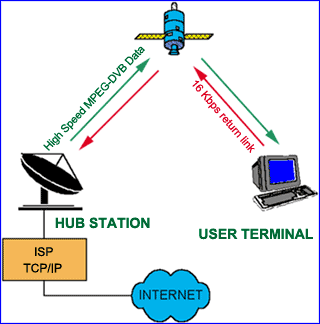 We make things easy.
Web-Sat is the first of a new generation of low cost, high speed internet services via satellite for which you need:
No Telephone Line
No Leased Line
No ISDN Line
With this premium service, you effectively have a permanent 2-way circuit that will save many hours delay in logging-on, downloading large files or surfing the net and eliminate all thelephone cost.
If you leave your PC server switched on all your e-mail and data are forwarded automatically on receipt by the hub, thereby saving log-on time, waiting for a line, busy local ISP etc.
If your PC or server is not switched on your messages and data are stored for later retrieval in the normal manner. When you want to surf the net or send e-mail just "click" and you are on the net.
Who will use Web-Sat ?
Professionals who demand a Fast Quality Service
Users who lack local high speed Internet at an affordable cost
Remote Users who currently do not have any access to the Internet
Closed Users Groups who wish to avail
How do I become a Subscriber ?
You need to purchase a Web-Sat SIT (Satellite Interactive Terminal) from your local distributor. (For details see the Web-Sat home page or contact Web-Sat directly).
The Service is charged monthly in advance, payable by direct debit or credit card.
Each subscriber is entitled to download and upload a designated amount of data per month. Additional data above this amount will incur an additional charge.